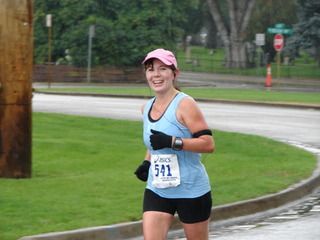 This is my favorite picture – taken around mile 17 or so I think? I felt SO strong until about mile 20. I was even on target for my "goal" of 4:45 when this picture was taken.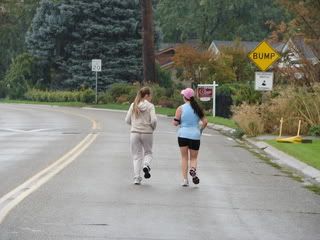 Running with my sister for a bit around mile 21. I was hurting so bad by then!

Coming to the finish line. I was dying! I was hurting! This amazing stranger was my "angel" right then. She wouldn't leave me and kept saying "Dig deep! I'm not leaving you!"

My buddy, Bertha – the sweetest, most wonderful running pal ever! She's the one who put my finisher's medal around my neck. That made me cry!!!! 

Bertha and I showing off our medals! We did it! I finished my first marathon and she PR'd by more than 32 minutes!!!!!

My bloody heals. Racing a marathon in the rain is brutal for chaffing!!!!

My amazing kids who cheered for me even in the pouring rain and cold while I raced to the finish line!

I was so proud of my medal!

Ready to conquer a warm bath since I had a major case of the shivers. I looked like heck and felt like it too at this point! That warm water really stang on my many chaffed spots! OUCH!!!!!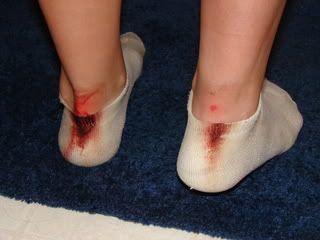 My bloody heels.
My first Marathon
As Wayne drove the kids and I to the race start, it was already raining and about 39 degrees. It was chilly out, but I was excited and determined to do this no matter what. My buddy, Bertha, texted me just as we arrived saying she'd forgot her Garmin and was running home for it. I worried a bit that she'd be late! I used the bathroom (which I would do three more times before the start) then met up with two of my other running friends, D and E. My parents and husband took some photos of us together looking nervous and eager for the race to begin.
Just as the sun came up (though I never actually saw the sun at all that day – just the lightness through the clouds) my best running buddy, Bertha ran up and hugged me! She was here! We were about to start! I set my Garmin to the "marathon quick workout" and told the virtual partner to go for the "dream goal" time of 4:45 (10:53 pace) that I'd trained for. I realized with the rain and the cold, that time was not very likely – but I figured it would get me closer to my second goal of beating 5 hours. I'd have been happy, to tell the truth, no matter what my time though, since finishing a marathon was my REAL goal!
We lined up towards the back of the group and waited to start. My chosen marathon was pretty small. No more than 160 runners. I'm not really a big crowd kind of gal – so it was a great fit. I don't remember hearing a gun, so maybe someone yelled "GO!" I just know we started moving. Families and friends and race volunteers lined the sidewalk and started cheering for us as we ran. I felt like a rock star! 
The first mile is pretty flat. I felt really good – no aches or pains at all. I felt strong, elated and ready to see what I had in me. Running next to Bertha I could not stop smiling! She just brings out the best in me! I felt so blessed to have such a great friend along for this crazy ride.
Within a mile, my shoes and socks were soaked! And though I'd made sure to hit all the usual chaffe spots with deodorant (which usually prevents chaffing for me if I rub a bunch on), I knew the rain would likely wash it all and I'd be a sore mess when this was over – but I felt positive. I figured the rain would let up after a few miles and we'd have easy sailing for the second half of the race. I was SO naive! 
Mile one pace: 10:49 (doing great)
Mile two pace: 11:00 (holding back just a bit and took an ibuprofin that Bertha gave me)
Mile three pace: 10:49 (Virtual partner is behind us!)
Mile four pace: 10:09 (I start feeling really good!)
After mile 4, my Puma running tights were soaked and had started to sag down at the hem. The result was I was running ON my pants and it was really uncomfortable! I saw Wayne, the kids and my parents waiting on the side to cheer me on – so I veered off course and told them I needed to get those tights off quickly! They helped me pull them over my shoes and I was down to my bike shorts and tank. I gulped down a sip of Gatorade (my race didn't offer a brand name drink so many of the runner's avoided drinking any at the aid stations) then I headed back on my way towards the BIG hill I'd feared in my nightmares for the last 3 weeks!
Mile five pace: 10:54
Mile six pace: 10:13 (the big hill is slowly building and I'm powering up it)
Mile seven pace: 9:54 (I summited the hill and felt so proud of myself! I was ahead of my three buddies which was a surprise) My buddy, B quickly caught up with me and we ran side by side for another couple of miles.
At the top of the hill, I could look out over Boise. It was beautiful… covered in a hazy, gray rain — but beautiful!
Mile eight pace: 9:53 (my best pace for the race) There was this guy I'd caught up with. We chatted for a bit and ran side-by-side for about two miles. He seemed determined not to be passed by a girl! I'd guess his age to be around 30 and he was breathing really hard at this point, but I felt fine and wasn't breathing very fast. I could tell he was holding on for dear life. I finally dropped him around mile 10. 
Mile nine pace: 10:36 (Totally ahead of my goal and feeling good.) I ran up to this very fit gal, who I was guessing from the back was around age 25 – 30, when much to my surprise, she was closer to 60! She looked amazing!!!! I chatted with her and found out she'd ran 37 marathons in her life. She said she was from New York and that her goal was to run a marathon in every state! What a cool ambition! She inspired me with her grace, her strength and her beauty!
Mile ten pace: 10:24 I'd hit a downhill section that goes towards downtown Boise. The beautiful old train station is in the background at this point and I saw the photograher at the bottom of the hill. I grinned. I felt so great! I was ahead of my pals at this point and ahead of my target dream goal. I was also taking the advice of the wise, beautiful older woman who said "There's still a long ways to go. She was reminding me to "hold back" a little. Good advice.
Things went a little kooky after that. I'd driven the route and gone over the map and suddenly there was a volunteer steering us the WRONG WAY! I knew she was telling the marathoners to turn towards the HALF MARATHON course and I panicked! My buddy, B, caught up with me and she and I kept asking the gal "Are you sure?" thinking she was wrong. We reluctantly did what we were told and our buddies, E and D caught up to us, also complaining that we were on the wrong path. We grumbled but kept moving, hoping it would work itself out. (It turns out, they did not have enough volunteers turn out because of the rain, so they had to reroute part of the race along this course. That means we ended up seeing this same section twice by the end.)
Mile 11 pace: 11:38 (the grumbling had stalled us a bit, but we were still 1/3 a mile ahead of the virtual partner so it was ok)
Mile 12 pace: 10:22 (The path we were on is actually the one Bertha and I run on our long runs, so I relaxed and settled back into my race – still feeling strong.) The four of us ran as a pack for a bit. That was really fun!
I realized we were getting closer to the halfway point. I got excited! I felt like I could run all day! I was cold!! My legs and arms were totally numb from the rain and low temperatures — but I could not wipe the grin off my face! I was in awe of the fact that my average pace at that point was about 10:30 still. My shoes were seriously sloshing by this point, so I took the chance to veer off course towards Wayne, my kids and my parents when I saw them around 12.8 miles. I jogged up and said "Shoes and socks please!" and they leaped into action! My hands were frozen in the gloves I had on and were useless. My Dad and Wayne got my shoes off, my Mom got my socks off and they grabbed my backup pair (my oldest paif of Asics) and a dry pair of socks and got me back on the road in about two minutes. It was worth it! My buddies, E and D had stopped at the aid station and were drinking there when I took off.
Mile 13 pace: 11:53 (the shoe change took a bit of time, but it was worth it!) My feet felt great again! I knew with the rain continually coming down, they'd be wet again soon, but figured it would still help!
In mile 13, I came around a corner and saw the hospital Savannah had stayed in for a month in 2007 when she was 5 months old and very, very ill. We almost lost her in that hospital. I lived there with her during the whole frightening ordeal and her room faced the park I was now passing. I was suddenly overcome with emotion. I started counting my blessings. — My baby girl was healthy! She'd recovered from such a terrible illness. I was healthy too. I was running my first marathon. I had 4 other wonderful, healthy children. I have a great husband. I have two wonderful parents who were here cheering me on today. And so it went… counting my blessings. I teared up a bit and just hugged myself with gratitude towards my life. I devoted this mile to Savannah most especially. 
When I'd reached the halfway point exactly (13.1), I looked at my watch. It said 2:17. Not half bad! If I could have maintained that pace for the rest of the run, I'd have achieved a 4:35 marathon! Impossible to imagine! But, of course… I could not hold on that long at this pace it turns out.
Mile 14 pace: 10:39 – Still smiling and feeling great!
Mile 15 pace: 10:50 (My stomach had been growling out loud since mile 10. I was starving!!! And, I had to pee so bad! But I held it. It was starting to hurt, but mentally I felt great.)
Mile 16 pace: 11:26 If I remember right – I was ahead of my pals at this point. It's all kind of fuzzy now, but I think I held that lead until mile 18 when I stopped to use the bathroom finally and they zoomed ahead.)
Mile 17 pace: 10:57
Mile 18 pace: 11:10 (I'm starting to hurt even worse here. I was having the hardest time NOT wetting my pants and seriously considerd it!) My pal D caught up with me. She said she'd been trying to catch me for quite a while and that made me feel so good!! I consider her one of my fastest friends. She was my training buddy all last year. 
I decided to look for a bathroom and to stop as soon as I saw one. I could not hold it any longer!!!!!
Mile 19 pace: 11:21 (I saw an aid station set up under a bridge and headed straight for that beautiful porta potty!) Once I sat down I swear, I suddenly just wanted to sit right there and not move anymore. 
It was THAT bad by that point! I was so tired. I was starving. I just wanted to rest. I made myself get back up and had to fumble pretty hard to get my shorts back up. My hands were so frozen from running in the rain for so long! When I got out of the bathroom, I saw my buddy, E who was at the aid station. She and I ran together for another mile. She was awesome and kept me from taking a wrong turn! Whew!
Mile 19 also held a runner's worst nightmare — a HUGE hill towards the of the race! It was the biggest hill of all. I could see Bertha and Davina wayyy ahead working there way up that thing. Bertha even walked some of it. I decided I'd try to catch up. I pushed on — but I seriously depleted every last bit of glycogen in that effort. When I reached the top, I still was too far for B or D to hear me when I yelled, "Looking good, guys!" I passed two running gals who were chatting. I heard one of them gasp as I went by. I turned to see what was the big deal. She was pointing at my bloodied heels and handing me a tube of vaseline. I had no idea I was bleeding! I told her, "No thanks. I'm fine" and kept going. I figured it was better to ignore it this far into the race.
E finally took off in hopes of catching D (her closest running pal). I could see all three of my friends running in a little line. I was so proud of all of them, and so excited to be so close to even see them this far into the race since they are all more experienced runners than I am. (Bertha was running her third marathon. Emily has been running since high school and recently did an ultramarathon of 32 miles and Davina started running about 6 months earlier than I did and has spent the last year and a half doing tons of races – even a 30K one month ago that she raced in about 10 min/miles.) I admire each of them SO much and they inspire me!!!
I saw the gas station ahead that I remembered we got to turn at and felt hope. We were getting closer! I also heard a huge CHEER rise up. That's when I realized how many people had gathered at that spot to cheer on the runners. And it turns out – I knew every one of them!!!! D's husband and kids were cheering, B's husband and son were cheering, B's good friend (and a new pal of mine) was cheering and calling us by name, my sister and her family had shown up and were screaming my name, my parents were there clapping and yelling "GO!!!" and Wayne and the kids were there telling me to "YOU CAN DO IT!" I was so inspired! I was REALLY tired, but I couldn't let them down – so I pushed on! But.. my friends were really far ahead by this point and within a minute – I was the only runner as far as I could see ahead or behind. Mentally, that was a tough spot.
After rounding a corner, I looked up and saw the aid station for mile 20 — THE WALL! They offered water or vodka jello shots. Oh man… I don't drink at all but I wanted some jello so bad! I was dying of hunger — but I went with the water. I really wish they'd offered non-alcohalic ones because I'd have taken several! 
As I ran by the mile 20 sign I thought "Well, this is tough, but I'm ok! SMASH (Good bye wall!!) If only it had stayed that way…….
Mile 20 pace: 12:19 I'd slowed down enough that the virtual partner was now ahead of me. Only .82 of a mile though. I was thinking, "Hmm… I wonder if I'll have a surge of energy still and be able to catch back up?" The answer, unfortunately would be a very loud, "NOT ON YOUR LIFE CRAZY CHICK!" 
But, I had hope!
Mile 20 passes by a graveyard. I had joked with my pals earlier in the race, that if I hit the wall, I'd just keel right over into the graveyard — so convenient and all. Hm.. but at this point — I seriously thought laying down in that place sounded dang tempting! I was hurting so bad. I was freezing to death. I was hungry. I had to pee AGAIN! when would it end?????
Mile 21 pace: 12:29 I met a runner who was standing at another crossroads looking confused. I told her, "Follow me. I know which way to go." She told me she was recovering from a hip injury and that it was flaring up on her right then. She looked like she might cry. I told her I'd had a bad hip injury just last year and stuck with her for a bit. There's a small bit of downhill here, which felt great, but ended too soon. Time to turn a corner again. Alone. Noone ahead that I can see and the hurting hip gal is far enough behind I can't see her anymore either. Alone. Very alone…..
Mile 22 pace: 11:46 I took off down the road the helpful volunteer pointed and then turned at the next street (I'd memorized this from driving the route), then I headed into the park feeling tired.
Mile 23 pace: 13:43 Once I got into the park I realized I had NO Idea which way to go. Bertha and I'd had the same problem when we'd driven the path – not knowing which way to go once in the park – but had both figured it would be marked well on race day. Well – it wasn't. No volunteers either. Just me, standing in the pouring rain (did I mention it picked UP about this point???? It was like buckets being poured on my head) having no clue which way to go. I wanted to cry. Finally, the injured hip runner caught up to me and we both stood there unsure of where to run. Some frisbee golf players finally took pity on us and pointed out the right way. I wanted to strangle the race director about then for not marking the path better and for not having a volunteer at this spot (where there are 3 directions you can go!)
So, I headed off into a PARKING LOT and felt in my gut that this must be the wrong way. I was slowing down and worried to death the race was anther direction and I was lost. It got to me. I felt defeated and tired and angry. Mostly tired though. Just more tired than I'd ever been — except for when I was in labor five times. It really did remind me of that experience so much. Just an overwhelming amount of pain, exhaustion and knowing you still had to keep going forward weather you wanted to or not.
There were speed bumps in the parking lot. LOTS of them. I swear they never looked huge to me before, but at this point lifting my legs that much was a major effort. I just stood and stared at the first one. I'd lost my mind a bit by this point. Everything was hazy. Hard. Impossible -seeming. Finally, I mustered the energy to get over the first speed bump when three chatty runners passed me. I could have killed them for feeling so happy this late in the race. Yes, mild- mannered Christie had become murderous over other's happiness at this point. It was ugly!
Mile 24 pace: 13:39 I looked up and saw my friends finally! They were all still together! I waved at Bertha and mustered, "Looking good!" Then I realized that there was an out and back part of the course that totalled about a mile. I was staring at my friends and a few feet from them but was not allowed to follow. I had to head off deeper into the parking lot first, circle, then come back to the spot they were going. I wanted to cry. I wanted to quit. It seemed impossible to finish this race. I was so alone.
I could only muster 5 or 6 steps of running, then I'd stop and walk, then run a few steps, then walk. My shouders were slumped over. I felt defeated. Tired. Conquered. It was too much to ask my body to go another 2.2 miles. It sounded like the farthest distance I could imagine. Much more than I could do. "Please, God. Let this end." I prayed to the skies. If someone would have come up to me and offered me a ride about then, I'd have had to struggle to say "No." I'm glad noone did. It was lonely and wet and cold out there. Not many people hanging around a park on a day like that. I started to think I was the last runner in the race and that depressed me. But, I could see anyone as far back as I could see. Just me. Barely moving forward.
Mile 25 pace: 14:29 I'm back in the park that Bertha and I like to run in. I can see the golf course we stop at every time and buy Gatorade from — and I don't care. Everything hurts. I feel cranky and tired and wet. I make out the brick red bridge that means mile 26. I'd stood in front of that bridge the day before and said to it, "The next time you see me, you'll be welcoming home a marathoner!" At this memory, I almost start to cry. Not from happiness. From realization that this IS so much harder than I thought it would be and I'm in worse condition than I ever imagined I could be at this point in the race. I'd visualized sprinting across this bridge, through the parking lot ahead, across the 4 lanes of traffic and into the finish chute for weeks. But… all of a sudden — I don't care. I just don't care anymore.
Mile 26 pace: 13:20
That's when the angel showed up. She was blond and wearing a blue jacket. She'd been behind me but I hadn't seen her. I muster enough energy to say "You're doing great!" as she passes me. She sees the look of pain and hopelessness on my face and she stops to walk with me. I tell her it's my first marathon and she says "OHHHHHH.. as though that explains it all." Then she says, "You know, 90% of women cannot finish their first marathon in under 5 hours and YOU are about to do that!" A glimmer of hope returns to my weary soul. "Really? I ask." I look at my watch and suddenly, I'm not sure I can do it. What if my legs can't run another step? What if I just stand still and can't will myself to get this done?" She says "COME ON!!! You're doing this!" and I follow like a tired puppy. I follow until I stop – only a few steps later. I just can't keep up. She notices and comes BACK to me, grabs my arm and says "You have to dig deep! You can do this! I'm not leaving you.!" I wanted to cry with gratitude. I told her "You're an angel from heaven!" And we go. My face is twisted with pain as we go through the parking lot (it feels SO far)….. then the crossing guards stop the traffic and I see the crowds lined up along the sidewalk in the rain cheering us in. I know SO many of those faces – family and friends. I see Bertha wearing her medal and smiling from ear-to-ear at me and yelling my name. I feel like I'm walking through thick mud, but my legs are running again. Slowly and surely. I hurt so much. I'm shivering but I stumble forward and cross the finish line right after my angel does. I hit stop on my Garmin and see 4:57:30. I did it! I broke 5 hours on my first attempt! In the rain! Wow.
The last .2 pace: 9:04 which of course I owe entirely to my sweet fellow runner who mentally got me through that end.
For weeks I'd practied in front of the mirror the pose I'd use when I crossed that finish line — arms raised in victory, big smile on my face — but that was not the way it really ended up happening. My face was twisted in pain and agony. I forgot to raise my arms at all. I just stumbled over the line. Reality is funny that way.
Bertha ran up to me, beaming, holding my finisher's medal – and she placed it around my neck. I started to cry as she hugged me and said "I'm SO proud of you!" I love her to pieces! She's the best running pal ever!! I've known her since we were 6 years old. She felt like my own sister in that moment! Just so bonded and so happy!
Wayne and the kids, my parents, my sister, her husband and her kids swarmed me with congratualtions and hugs! Several of my other friends came to congratulate me too. I felt so grateful and loved! 
Cameras started to flash! My Dad and Mom handed me a gift bag. I reached inside and pulled out — a cute runner's trophy with my name on it!! The statue is a girl runner with wings on her feet!!! I accidently dropped it since my grip wasn't working right after being in the cold so long. Luckily it was fine! I love my statue!! My Dad gave a similar one to my Mom 14 years ago at the end of her first marathon! My parents were so proud! I could tell! I kept saying "I'm so hungry" and my sister went to get me a bowl of soup. I was shivering and looked around for the mylar blankets that I thought all marathons offer – and realized there weren't any. Oh yeah – small race. Man! I'm cold!!!!! My teeth were chattering and the rain kept pouring down. I couldn't bare to wait in the rain for the awards ceremony or the official posted results. I hugged my friends and slowly, with much pain, headed to the van.
I don't remember feeling this hungry before! I had Wayne head to Burger King and order me two hamburgers, two fries and a large Coke! I only ate one of the hamburgers – but I ate the rest. Once I got home, I had to have help getting out of the van. I could not work my legs and I was covered in a big blanket my Mom had handed me. Slowly and painfully, I made my way back into the house. The stairs were SO painful! One at a time, I slowly made it up to my room. I wanted a warm bath SO badly!! I was shivering! I had Becca bring the camera and take pictures of my bloody feet. Pretty cool! Pretty gross. 
When I was alone I finally got my clothing off and saw the chaffing damage. OUCH! Under both arms, my inner thighs, and those bleeding ankles. When I lowered my sore, naked body into the hot water I had to swollow a yelp! It hurt SO much on the raw skin! It felt on fire! But the warm water was soothing. Very soothing to my cold skin and aching muslces.
After getting dressed in my warmed pj's, I layed in my cozy bed (Rebecca had made it for me so I'd be comfy – isn't that sweet? 
) I asked Wayne to bring me a Snickers bar, a cup of hot cappuccino, two slices of bread and two servings of pot roast (I'd set up the crock pot and bread machine before my race so I'd have something hearty to eat when I got home.) I ate and ate and ate and still felt hungry!!!!! Then I slept for a good few hours.
I did it guys! I ran a marathon! I was so afraid I couldn't do it – but I poured myself into it out there and gave it everything I could today!!!! I didn't hold back! I went for it! I'm so proud of myself!
And — my buddies did amazing too!!! E and D came in at 4:44 (that's a PR for E who's last PR was 4:51 at last year's race), and B came in right behind her at 4:45 (A PR of 32 minutes better than her last marathon in April!) My pals are my heros! We did it! 
The End.