One of my running pals, Sam (who's 52 I think) worked super hard this past year and qualified for Boston (with mere seconds to spare) in his first ever marathon! We were all in awe that he did it and especially that he did it on his first attempt. Sam did go and run Boston in April and he took along his camera and took pictures along the way – just savoring the moment. 
My super ultra cool cousin, Ben has been running marathons and ultras for years and is super fast — but still had not qualified for Boston until just this past month!!!! He came in also under the wire with a 3:09 (had to get 3:10 or better to qualify at his youthful age of 26 and as a male!)
Those are the only two people I know who have BQ'd!!! I don't know a female runner friend who has done it (at least not that I'm aware of.) I want to be that girl! 
I want it really bad! I own a whole stack of books about the Boston marathon and I've read them cover to cover over and over. I have old, dusty ones that tell stories about every winner, their background and their race story from the beginning until like 1969 or 1970. Some of the stories just knock your socks off – hearing about people without much money with a talent for running who slept on park benches or road a train all night just to show up and race – and then ended up winning the whole darn thing!
Reading about Bobbi Gibb who actually was the first women to run the race in 1966- but who did not have an official number. Here's her photo from that time period: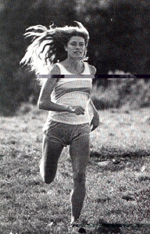 Here's an excerpt from her story in her own words:
When the gun went off I jumped into the pack. I had no idea what kind of reception I'd get. I was afraid the police would arrest me and that the spectators might boo and hiss. I was afraid that if the officials saw I was a woman they'd throw me out. I was all alone. I knew the most important thing was to prevent anyone from stopping me, so I wore a blue sweatshirt with the hood pulled up and my brother's Bermuda shorts tied up with a string, over my black, tank-topped bathing suit.

Very quickly, the men behind me, studying my anatomy, figured out that I was a woman, and to my great relief, they were supportive and friendly. They could have shouldered me off the course, but instead they said, "It's a free road. We won't let anyone throw you out." So contrary to what some people think, it was not a men-versus-women confrontation. The men were glad that I was running. With this encouragement, I took off the hot, heavy sweatshirt, and then everyone could see that I was a woman. A cheer went up from the crowd when they saw a woman was running.
Reporters spotted me and phoned the story on ahead. The radio was broadcasting my progress towards Boston. When I got to Wellesley College the women knew I was coming and were watching for me. They were screaming and crying. One woman standing near, with several children, yelled, "Ave Maria." She was crying. I felt as though I was setting them free. Tears pressed behind my own eyes.

I was running conservatively because I knew that if I failed to finish I would reinforce the prejudices and set women's running back another 20 years. The weight of responsibility sat heavily on my back. Even so, I ran most of the race at a sub-three-hour pace. But in the last three miles, my pace dropped off. I had severe blisters, and I had not had any water to drink, since I was misinformed into believing it would give me cramps to drink while exercising.

Finally, I got to Hereford Street and made the turn on to Boylston. Spectators thronged the bleacher and let out a roar of applause. The press was there. The governor of Massachusetts came down to shake my hand. The next day it was front-page headlines. News went out around the world that a woman had run the Boston Marathon. I had run in a time of 3 hours and 21 minutes and had finished ahead of two-thirds of the field.
You can read the rest of her wonderful story here if you like: http://www.runningpast.com/gibb_story.htm It's a great read and really inspirational!
The first woman to run the race with a real number was Kathrine Switzer in 1967. She had no idea that women were banned from the race and used her pen name "K. Switzer" when signing up. When the race director, Jock Semple found out about it, he tried to rip her number right off her chest while she was in the race! A photographer captured the moment and it's been seen around the world every since — a reminder that women were not always permitted to do something we love and take for granted today.
Kathy stayed in that race after her boyfriend pushed Jock off the course and onto his back. She finished in 4:20 that year. She later became a huge voice for racing for women. She set up races all around the world, encouraging women of many cultures to get out there and be healthy! I 
Kathy Switzer!
Guess what year the Boston Marathon finally officially allowed women to race? 1972 — the year I was BORN!!!!!!!!! 
I feel like that's symbolic to me.
Here's a picture of Kathy Switzer with that mean race director, Jock Semple smiling for the cameras that day. He'd admitted he was wrong and a new era had began.
I was meant to run this race one day. I hope I can do it guys. I'll train my heart out and give it my all in October. If I can't do it the first time I'll keep trying until I do. It's something I want my children and grandchildren to remember about me. I think it would be a cool legacy to leave behind.