I promise to share all the details of my marathon! But first I wanted to share some of the pictures of my big day. I'll be back later to tell my tale.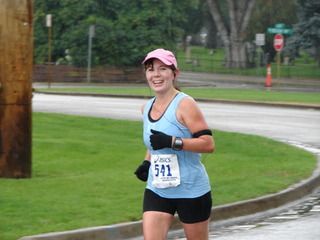 This is my favorite picture – taken around mile 17 or so I think? I felt SO strong until about mile 20. I was even on target for my "goal" of 4:45 when this picture was taken.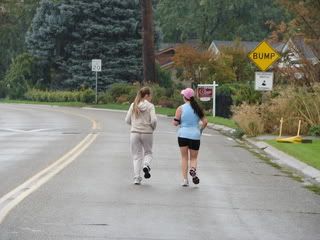 Running with my sister for a bit around mile 21. I was hurting so bad by then!

Coming to the finish line. I was dying! I was hurting! This amazing stranger was my "angel" right then. She wouldn't leave me and kept saying "Dig deep! I'm not leaving you!"

My buddy, Bertha – the sweetest, most wonderful running pal ever! She's the one who put my finisher's medal around my neck. That made me cry!!!! 

Bertha and I showing off our medals! We did it! I finished my first marathon and she PR'd by more than 32 minutes!!!!!

My bloody heals. Racing a marathon in the rain is brutal for chaffing!!!!